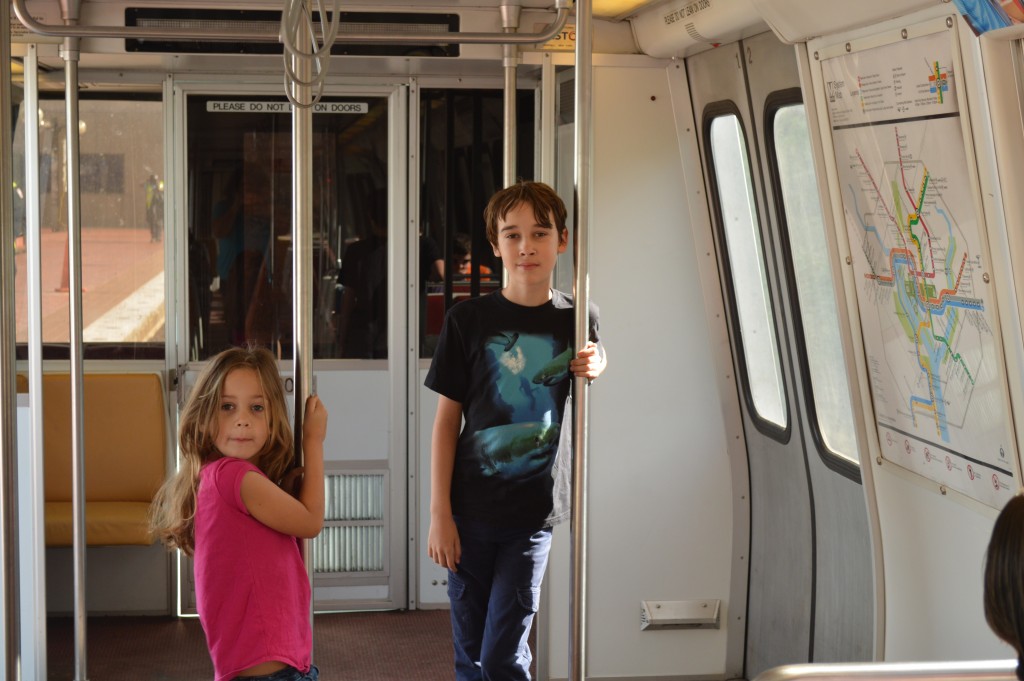 We parked our RV by a campsite with a playground, shower and laundry right next to us. We're in Virginia, very near Washington DC.
We got DC by Metrorail. We went to lots of museums. I saw how people started out as monkey people, tiny starfish, and dinosaur bones at the Natural History Museum. Then at the Air and Space Museum I saw rocket ships and I got to go inside half-planes and I got to see a plane that flew around the world without even stopping for gas.
I went to art museums and got to have a phone where I could type numbers in and click the green play button and then it would talk all about the painting I was looking at. I liked the phone thing a lot, because it was very descriptive. There were kid numbers and regular numbers. The kid ones were a lot more descriptive, so I liked it best. Cole and Mommy listened to the regular one.
My favorite painting was one where there were about ten lions and a person who everyone was jealous on, and the king made it so that they could only pray to them, but the man wanted to pray to God, so he was sent to a lion chamber, but in the morning they rolled back a big stone and he was still alive. I liked that there were kitty cats in the picture.
There was another painting of a man who was the only one who didn't have to wear black. He wore pink and bright colors and was supposed to be a moving target in a war, so that the other guys would shoot at him, but everyone else wore black. When the painting was being made, they weren't actually doing a war, but just practicing. I remembered it because it was a man in pink!
There was another painting where they were having a messy party. People were sitting and dancing and there was an egg, a spoon and a knocked over barrel on the floor and more. I think it was very messy.
I'm going to tell you what happened during World War II and the Holocaust. I'm telling you about this because people didn't believe that it would actually happen, they weren't ready for it, so 6 million people died. We finally won, when the war was over, but I want to tell you about what I learned because I don't want this to happen again.
I went to a museum called the Holocaust Museum. First we got to see Daniel's house. Daniel was a kid who survived WW II. His house was nice. He had a shop that his father owned, and then Nazis came and said that they didn't have rights. They started by taking away some rights, like destroying his father shop. Then the Nazis made it so they had no rights.
For instance Jewish people weren't allowed to swim in any pools and they weren't allow to go to school anymore. And they had to wear a big yellow star on their clothes. Then they made it illegal not to carry passports that told all about them and that had a big J on them. That meant they were Jewish.
Then they took all the Jewish people to a ghetto with barbed wire everywhere and only on certain days could they send letters to their family. They were only allowed to buy rotten turnips and bread to eat. After that they were taken to a concentration camp, where there was a line for immediate death and another where they would torture them to death. In the immediate death line they went to a gas chamber. The other ones had to work and work until they died. Some had to carry stones, big heavy stones up very high stairs. Most of them fell to their death. They also had to burn people and other horrible things.