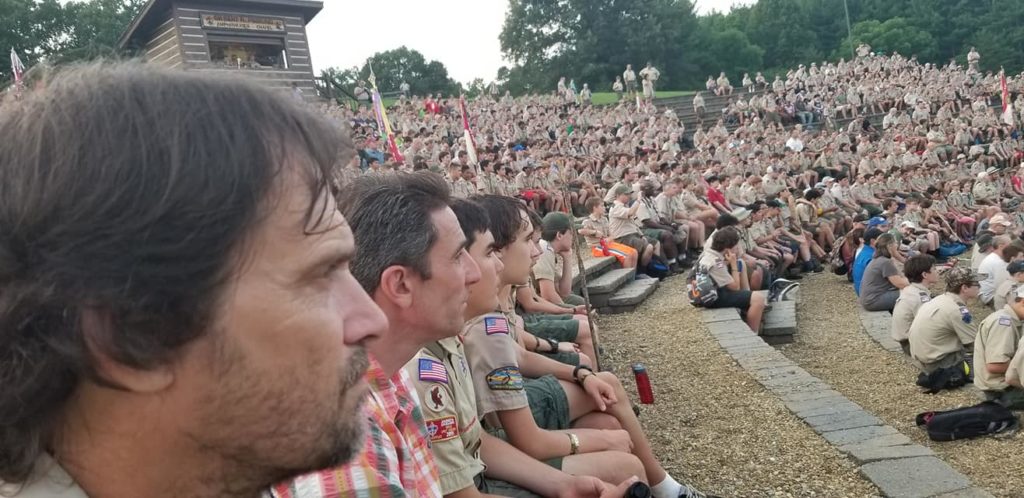 Friday was exciting. It was the last day of classes, so that meant we all had to try to complete our merit badges. Everyone in our Troop managed to finish on time!
To wrap up Citizen of the Nation we talked about the  Gettysburg address. One of the things I found interesting was at this time people didn't really care about the famous speech Abraham Lincoln gave that day. Unfortunately, he had to follow a famous politician of the time, Edward Everett. Lincoln's ideas weren't popular and everyone one loved Edward Everett's two-hour speech. I learned that Lincoln threw together his two-minute piece the night before! Afterwards, Everett let Lincoln know that his brief speech summed up what he couldn't say in two hours.
After all our classes were done, everyone went to the ending ceremony. The huge amphitheater was packed; the theater was filled with the chattering of two thousand excited scouts. There were troops from all over the country, one was from as far away as Bangladesh. The air smelled like dewy grass, which surprised me, because there were so many people in the arena.
Tons of different troops put together their own skits and shared them to the audience. They were funny and full of life. Then the staffs put on their own skits as well. After, there were awards then an exciting ending ceremony.  Every camp has their own way of saying goodbye, but it always ends in fireworks!
The next day the morning was very foggy and cool. We all packed up, made our way to the front of the camp, said our goodbyes, and went our separate ways. I was kind of sad that I wouldn't be able to celebrate Chance's birthday with him, but knew the Troop would probably do something on the road home.
The seven hour drive back was a long haul. We decided to take it in two days for fun. We stayed in a hotel for one night and the next day we arrived back at the RV. I was happy to be back home!
I always love the Boy Scout summer camps and I can't wait for the next one.
(Thanks to Chris Lumsden for the great photos!)