Once salesmanship was over we (Chance and I) headed down to our last class of the day, game design. Once we arrived at the smaller building next to the big pavilion. We sat down and waited for the teacher. A minute later he busted through the door and yelled, "Game design!" At this moment I knew this was going to be a fun class.
After class the day was like any other day. I hung out with my friends, chatted, played card games, and explored. Then we took a shower and clocked out for the night.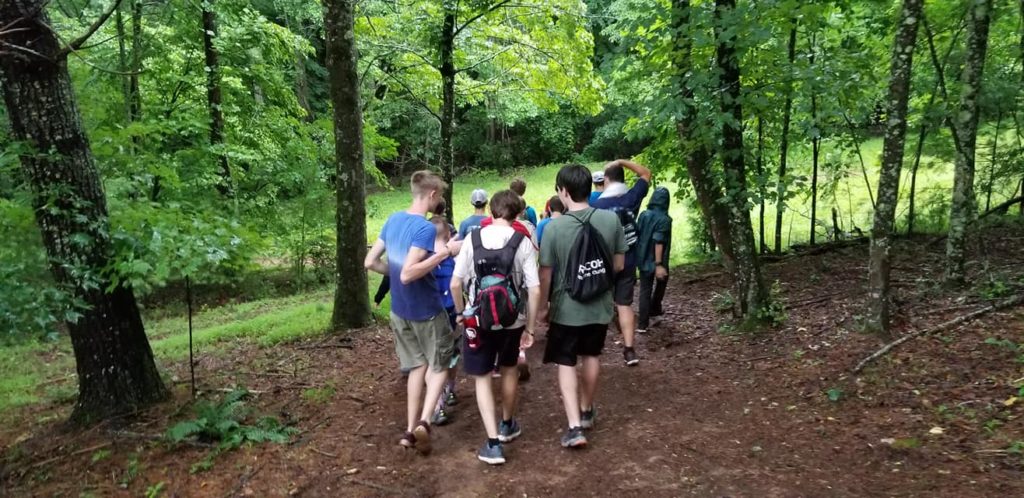 The next day was like the previous day. I went to all my classes, learned some new stuff, and took a swim test. After all our classes in the afternoon, we went on a five-mile hike. It started with us walking across what we call the Gathering Field (that's where we go before we eat.) Then we walked past the ranger's home then the road turn into a rugged dirt road.
Once this road started it began rising at what seemed to be a 45-degree incline. The road was surrounded by a dense forest. After walking a mile we reached the blacksmith and sewing areas. We found out that the people who were taking these classes had to walk here in the morning for two days. I thought that was pretty far considering that I only had a take a few steps to get to mine.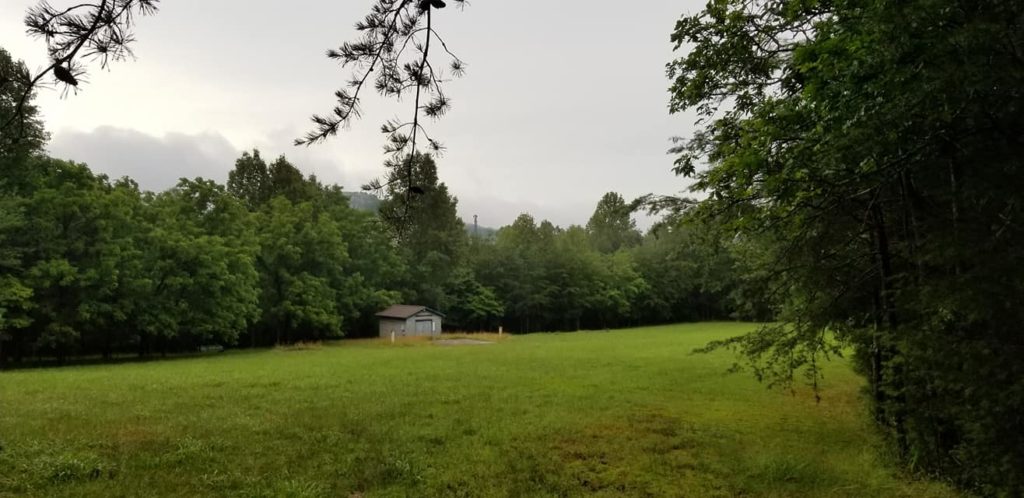 After some time of walking through the forest we reached the halfway mark. We all took a small break then continued. Crossing a field we disappeared back into the forest. After walking a long time we reached a church on the other side of a lake. We all took in the great scenery. Fog was hovering about an inch off the lake, as the sun was setting, so the sky turned a nice shade of red, yellow, and pink.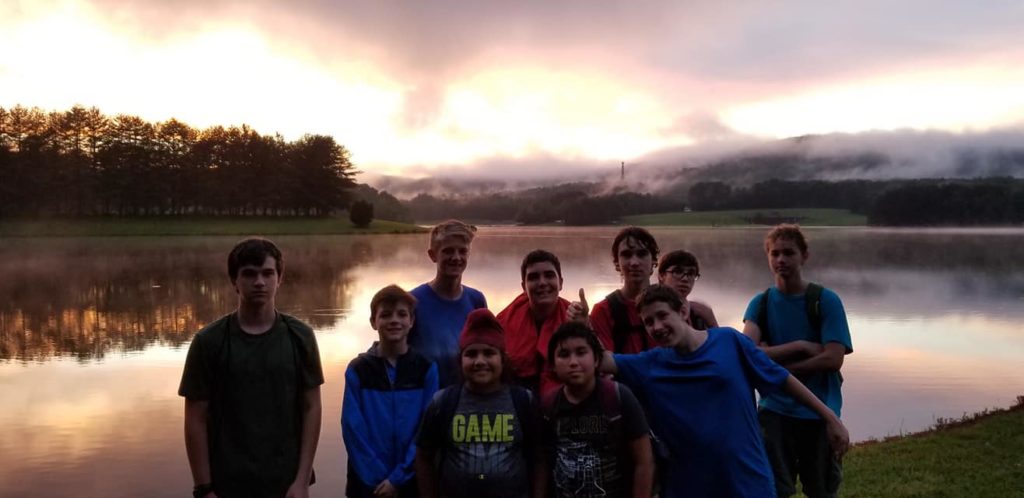 As we continued we arrived at the dam. On one side of the wall there was a lake on the other side was a ravine, we went on. A bit later we looped back to the camp amphitheater. Everyone was exhausted. We went back to camp, showered, and went to bed. My feet weren't that sore until I lay down to go to sleep; at that point they ached. I was glad to sleep.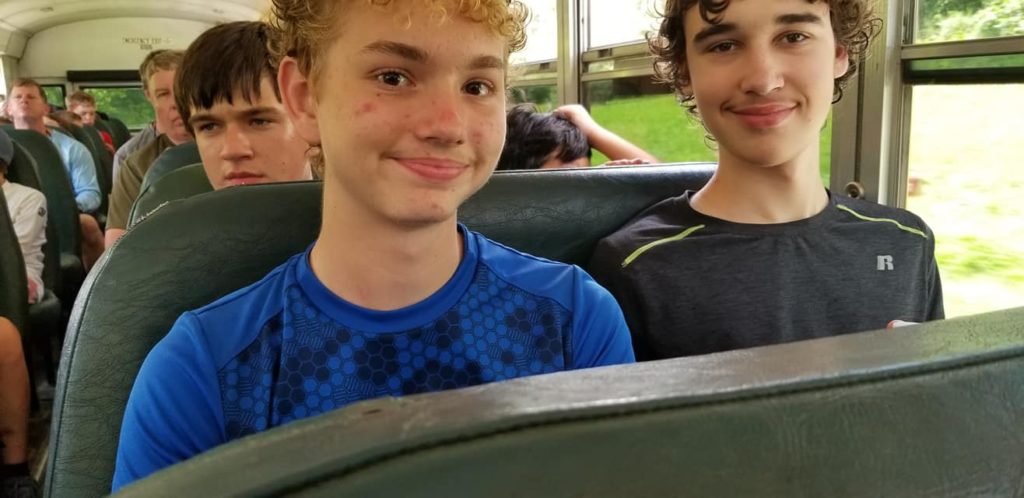 On Wednesday our troop (and about 7 other troops) went white water rafting after lunch. I sat next to Chance on the bus. I was excited to go white water rafting for the first time. We all got helmets, an oar, and were assigned a raft. Literally, the second we picked up our raft to head over to the ramp it downpoured. It continued to rain until we deployed our raft into the water, then it slowed to a drizzle then stopped moments after.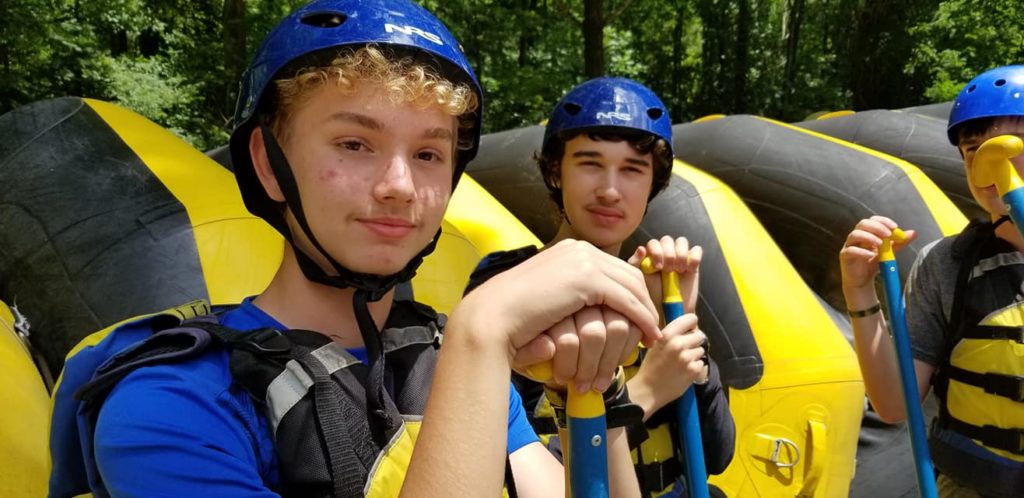 The rapids were fun and exciting! The raft would bounce around the waves throwing freezing cold water onto the boat and its passengers. On occasion we'd get stuck on a rock. The way to escape was usually have another boat ram into ours. At times it felt like we were playing bumper cars.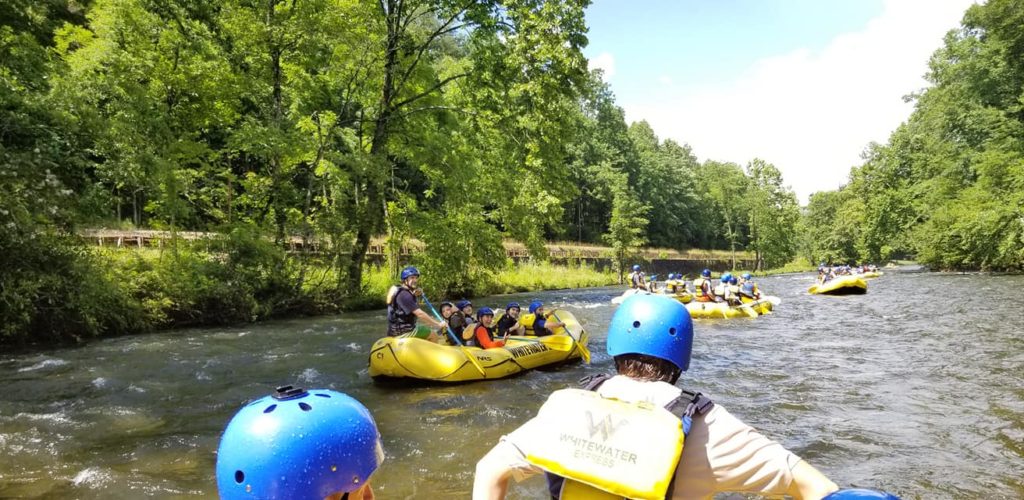 At the end of this river ride there was a waterfall. As we went down it, the raft picked up speed. It went so fast that water shot up over me and Chance in the front of the boat and crashed on everyone behind us. At the end, when we sat down on our bus seat we made a water shadow.
The next day was also exciting because we started leatherworking. I was excited to make things with leather! The first day we made a sheath. After we headed back to archaeology because we were scheduled to go on a dig. We all took a nice walk to the dig site, where we found a rusty old broken-down truck. The archaeology instructor explained that it was from the alcohol prohibition days. I thought that was cool! The dig was fun as we uncovered tons of stuff and had to explain what we thought we'd found. The day ended with the usual round of cards, chatting, then sleep.
Next time I'll share with you my final days of summer camp, where I'll tell you about the last day of classes and the ending ceremony!
(Thank you Chris Lumsden for the amazing photos of all our activities!)