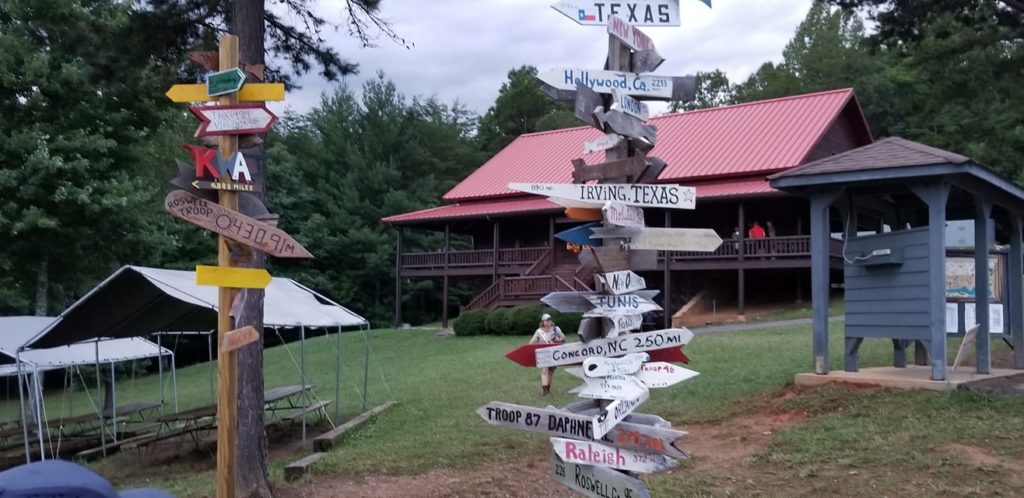 I slept really well the first night, because I was happy to be with my troop. My father had volunteered to help out, as an adult leader. I really liked having Dad around.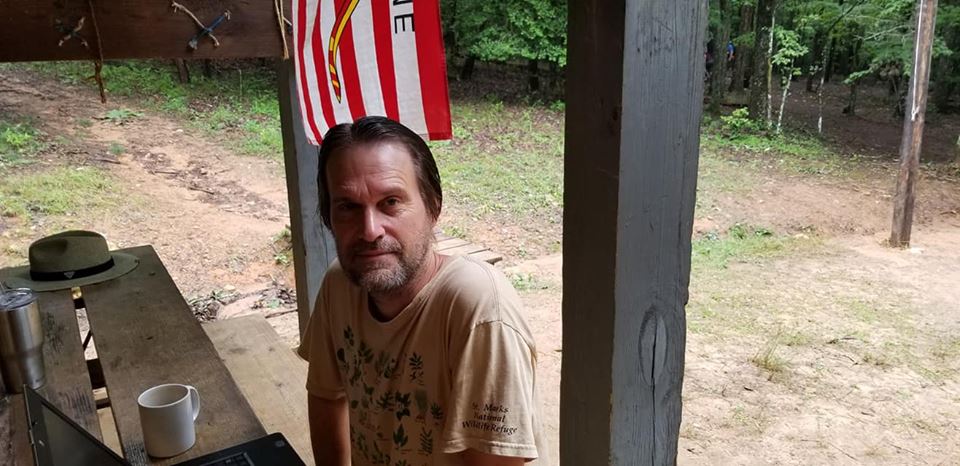 We'd arrived early. Most troops were expected on Sunday afternoon, so breakfast and lunch weren't provided by the camp. While we were trying to figure out a plan for breakfast, our neighboring troop offered to give us some of their food. They gave us eggs and beef tacos, which were satisfying.
After breakfast, we got a tour of the camp. Woodruff was very hilly. At the top of the hill there was a dining hall and trading post. Then there was a medical center a little further down the road. After that, came the campsites. At the bottom of the hill there was an intersection that went to the lake and the nature pavillion.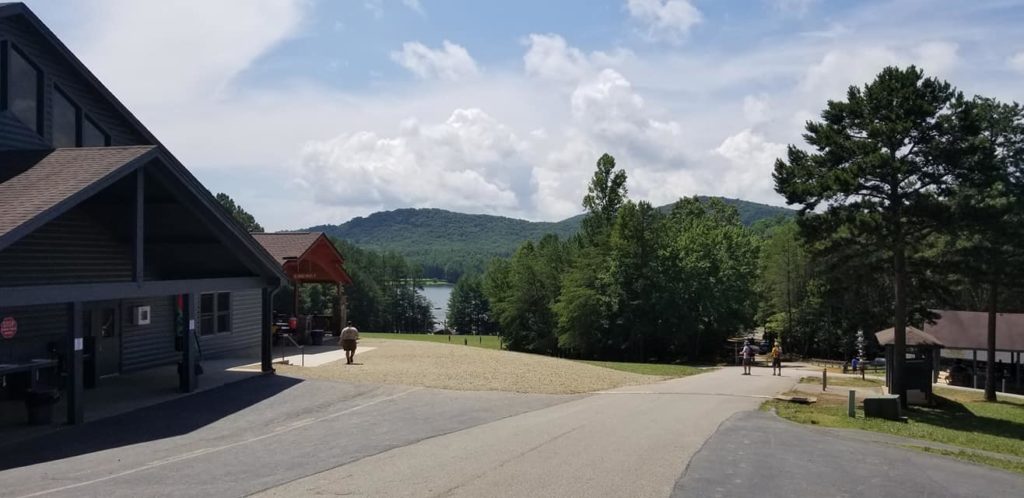 We spent the morning discovering the different parts of Woodruff, exploring all over. By the afternoon, we were happy to just sit around and play cards. At the end of the day, our Scoutmaster, Chris Lumsden, pulled us together and showed us where all our classes would be. Chance and I, being good friends, made sure we had the same class schedule.
The next morning, we all met in the clearing by the dining hall at 6:30am. This is where all the troops waited to eat. It took us a good hour and a half before we could go in and have breakfast, because we were the last troop called.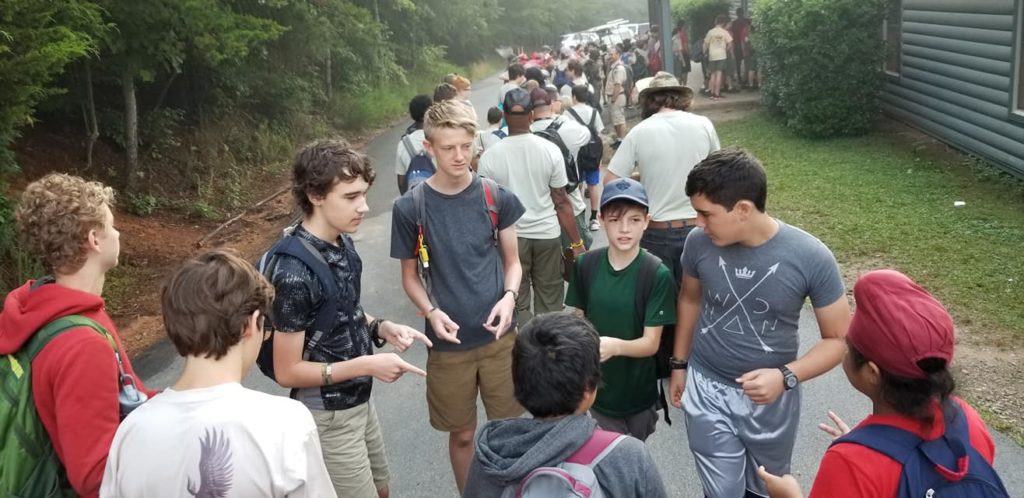 After the meal, we split up to go to our respective classes. My first session of the day was archeology at the nature pavilion's dock. When Chance and I arrived, there was no one there. We were five minutes early. Sure enough, within moments, just before class started, everyone arrived at once. That class was fun! The instructor taught us the steps people can take to discover how old something is. I thought the whole thing was fascinating.
Then came time for my Citizen in the Nation class. This one became a little trickier to find. We arrived at the out-door activity area and saw three pavilions all ready to teach very similar looking things: Citizen of the nation, Citizen of the Community, and Citizen of the World. However, once they started teaching, these classes were obviously very different.
We ask the teacher in one pavilion and he said "Oh, that one is in the other pavilion." Chance and I thanked him and went to the pavilion he indicated and waited for that teacher to arrive. I look around at the other students who I'd be spending part of the week with and they were all ready and eager to learn. That was good.
When the teacher arrived, he started off by greeting everyone and taking roll. Chance and I weren't on the list. He asked what class we had planned to take and I said Citizen in the Nation. He shook his head and said, "That's in the other big pavilion." We told him that they had sent us here and so, with the process of elimination we realized that we should probably go to the smaller pavilion. We were relieved to finally find the right place.
This teacher started off by explaining that he didn't want to do a boring roll call. Instead, he said he would ask us a different question each day (like "What's your favorite animal?") and when we answered, he'd mark that we were there. I thought this was an interesting take on doing roll call!
This class talked about the American government. On the first day we discussed what it takes to turn a bill into a law. I felt fortunate, because I already knew a lot about this. See, our family has visited Washington DC numerous times.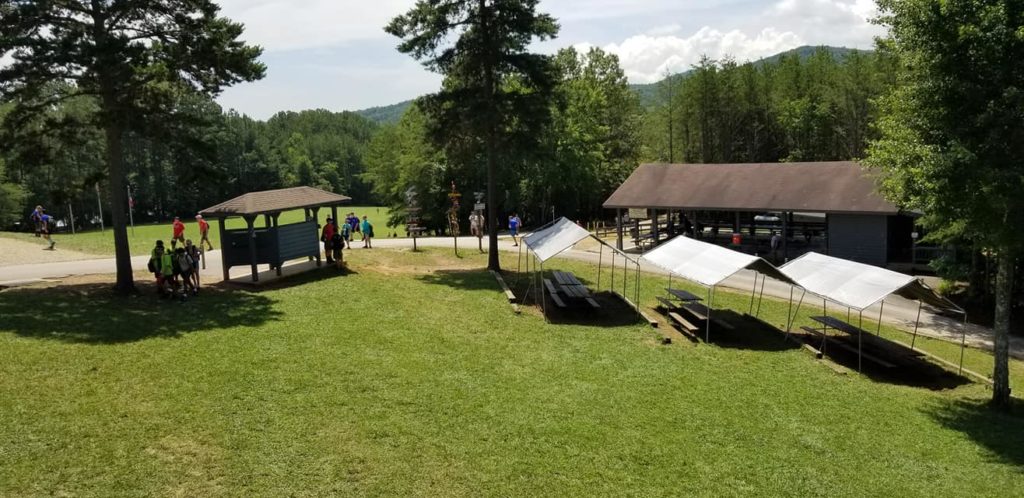 The next class was salesmanship. It looked to me as though a hundred students wanted to learn this subject, because the designated pavilion was so crowded. When the staff member came out of the back room, he explained that we were all there for a variety of classes. Then he directed everyone to their individual stations. We were just across the walkway.
This class taught me about different kinds of sales and why this is important. I find this to be an interesting subject, because it is really the art of convincing someone to buy something. You're trying to find something that they need, then help them buy your product.
Next blog article, I'll share with you more about my classes and tell you a little about our white water rafting adventure!
(Chris Lumsden took all these amazing photos)