Last year I reached the points of highest elevation in North Carolina and Virginia with Cole, then in Tennessee with Camille. This brought my total of state high points to eight. So, this past week I agreed with Serena's insistence that it was time for the two of us to go camping, and I recruited her for a two-day, peak-bagging fest.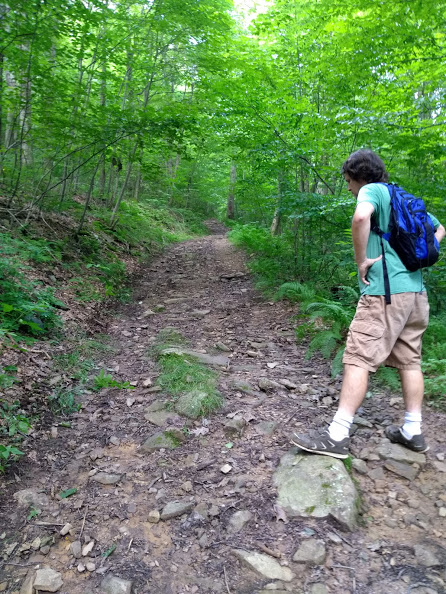 We began our foray by driving over 200 miles to Spruce Knob, WV. Yes, it is true that with two of the three high points on our trip one simply drove there with little walking, but with Spruce Knob getting there still required some doing. Highway 33 has a very steep downward grade just after crossing into West Virginia, and after many more miles on winding "highways," we abandoned two-lane roads altogether and drove the last 15 miles up what in some places was a paved switchback.
At 4,863 ft., Spruce Knob is so named for its impressive remnant forest of Red Spruce, making it a boreal forest similar to those in New England and Canada. Serena and I made the short walk to an observation tower for some great views, then drove the last five or so miles, on what turned into a dirt road with potholes, to Spruce Lake Campground, our lodging for the trip. I highly recommend where we stayed, but you won't get internet or cell reception with most carriers there. In fact, the campground host claimed that this entire portion of West Virginia actively resists the invasion of such things.
We drove back down the mountain on our quest bright and early the next day, which helped. The 250-odd miles was our longest drive of the trip. Well before lunch we parked the car still in West Virginia, about a mile's hike from Hoye-Crest, MD. The trail was a washed-out logging road, accurately rated between intermediate and strenuous. At 3,360 ft., Hoye-Crest offers a higher elevation and better views than you might expect in Maryland.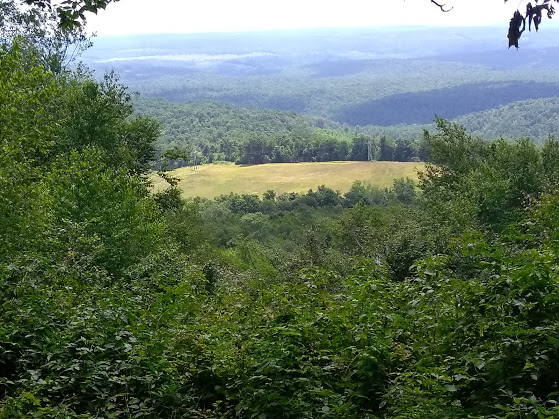 Conversely, you might expect a higher elevation and better views from the high point in all of Pennsylvania. Mt. Davis is only 3,213 ft. and doesn't particularly strike one as being the highest point around from the view on its observation tower. On the plus side, the peak is only a couple miles from the Maryland state line, which made including it on the trip possible.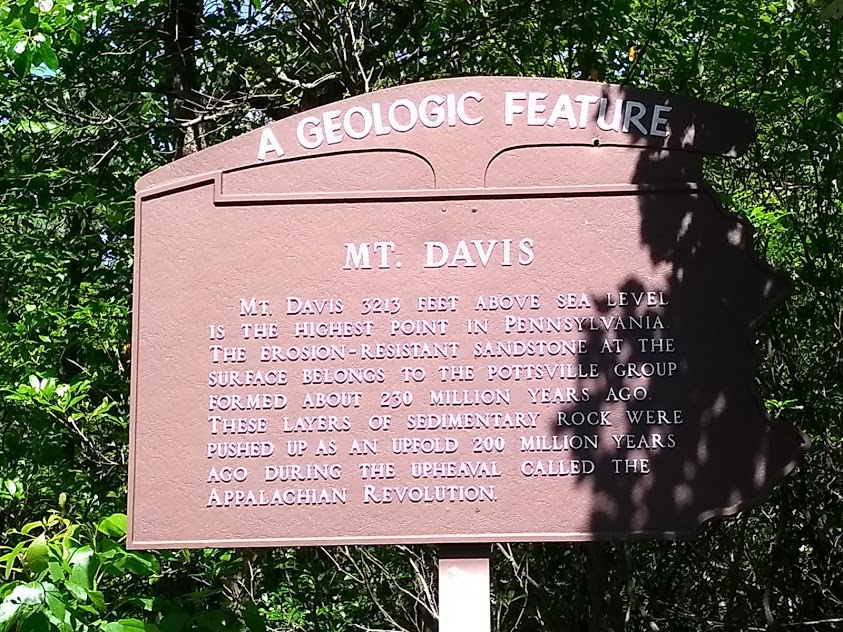 After the long haul back to Spruce Knob Campground, Serena and I had the obligatory toasted marshmallows after dinner and enjoyed the coolness – might even have dropped into the 50's by dawn. Not bad for mid-July. On the drive back we saw more picturesque, rolling farmland along a less harrowing road than Highway 33, finally arriving at Staunton, VA and I-81.
So, in two days I equaled my personal best of state high points for an entire year, with three. I'm determined to somehow add at least a fourth this year, but no obvious candidate presents itself. As I've mentioned elsewhere, most state high points are off in some odd corner, making them difficult to reach as we beeline it in about a week from here in Virginia, across the heat of the Midwest, to the high country of Yellowstone. And though I'd hoped to find some Western state with an easier high point than Arizona (see a previous blog for my trials and tribulations in finally bagging that one!), all of them involve extreme climbing, distance, or both.
Maybe I'll end up bolting out of some Walmart parking lot at 5 am to do the deed and return before the day's RV trek. Stay tuned.