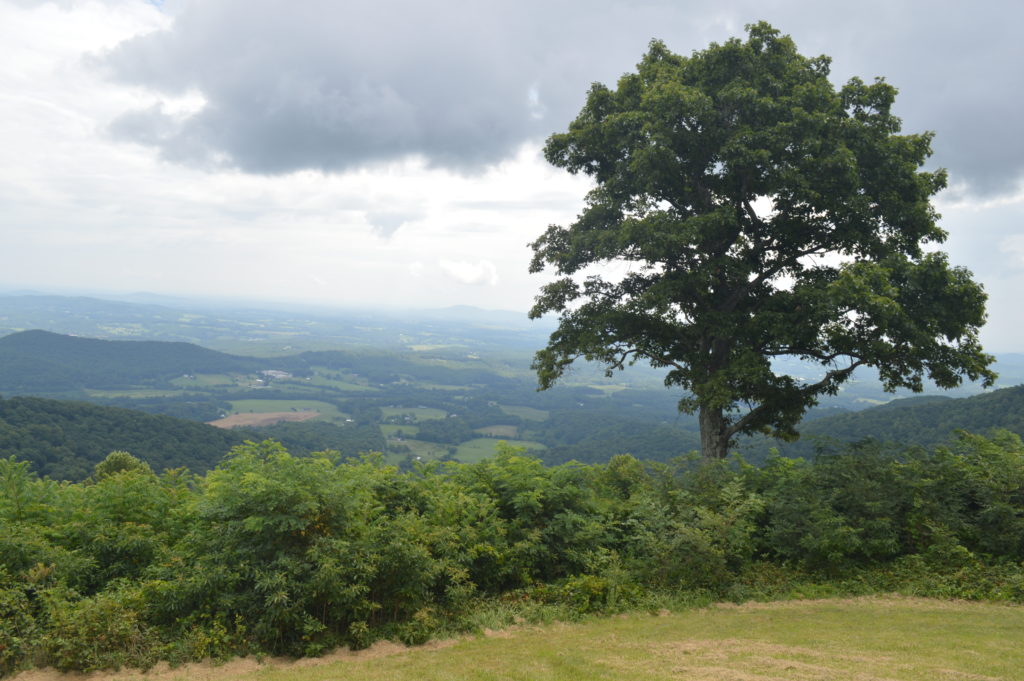 Rocky Knob is a section of the Blue Ridge Parkway National Park. It is pretty with all the landscapes and animals. There are a few trails. One is 11.5 miles long and another is 3.5 miles. Both are loops. We went on the 3.5 mile one called Black Ridge Trail. There was all these trees and creeks, etc. and you can see mountains sometimes.
It was tiring!
To start we gathered our walking sticks and set out for a hike. We left the visitor center and I climbed a tree, while I waited for my family. The trail started with these little stairs leading to the trail. Our trail had blue arrows marking the path, so we knew where to go (mostly). The other trail was the green trail, which was called Rock Castle Gorge Trail.
The trail was beautiful. I loved seeing all the nature! The trail took us by someone's property. It was a huge farm! After we went through the woods and then we crossed the Blue Ridge Parkway and climbed a little ladder into a huge pasture, filled with cows! When I saw this, I thought it was crazy! Mom said that the last time she went (with Cole) there weren't any cows, so she thought it was wonderful that they were there. There were a lot of cow pies on the trail, so we had to go around them. There was one huge black cow that was right next to the trail we were on (in the pasture). It looked at us like "Hey, you aren't a cow, but do you have any hay?" Her two calves were right nearby.
Then after we left the pastures, we continued on the grassland and saw mountains! Huge ones! There were also many blackberry bushes, but I couldn't find any. Mom had said the last time she was there, she tried a few, but they weren't good. Then, we continued through the woods again and when we reached the end of the trail, we saw two deer! They were right next to us. They looked a little skinny. The deer around the trail seem pretty tame, because they didn't run away! They kind of just walked away. Slowly.
I hope you guys see the stuff that we're seeing soon!
See you on the trail!