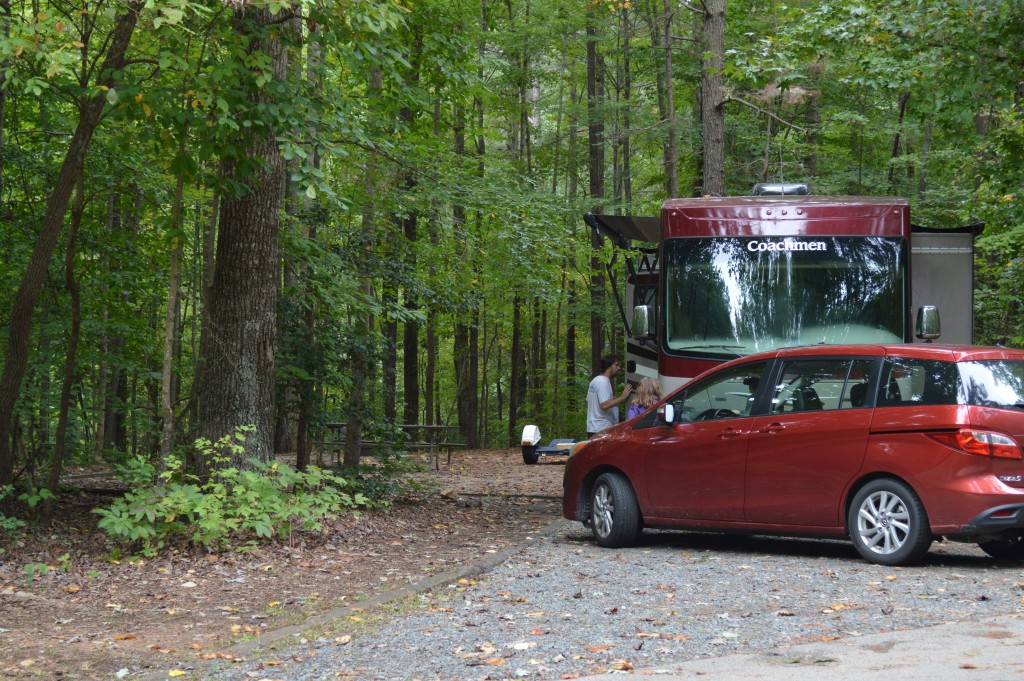 This short trip to Raleigh was jammed packed with all the kinds of activities I'd dreamed for the children when I came up with this plan of traveling the US. We visited the Museum of Natural History, rode the train at Pullen Park, and Cole and Camille became junior rangers of North Carolina. I loved working with them on that program.
One of my favorite activities involved becoming wildlife detectives, searching for signs that critters had visited the same ground we walk upon. Cole and Camille found half eaten leaves, droppings, footprints, webs and all sort of clues that they noted on their worksheets.
We're currently camping in the Falls Lake State Park and it's gorgeous. We never did get a chance to swim, but there's a little beach twenty steps from our site. Camille did her best to convince me that 60 degrees was warm enough. If it only were a touch warmer, I'd be splashing around with the children.
I adore this spot and would return in a heartbeat, but this little secluded park has its little idiosyncrasies. For one thing, the gates close at 9pm sharp with no recourse for re-entry if you miss the deadline. Also, there is no wifi available anywhere within the park, so one must tether to a spotty cell phone signal. Although I keep telling myself that it's not good to be so connected to the electronic world 24/7, I'm afraid I'm still accustomed to hot and cold running wifi.
With fewer electronic distractions, I find myself falling asleep much earlier than I ever have before. Can you believe I once drifted off around 4am? That was before the days of children. Now I'm sometimes out before 10:30pm. It's just weird.
As we set up and tear down the campsites, I feel a bit like a pioneer woman. I recognize this probably sounds ludicrous, as I am surrounded by so many modern and luxurious conveniences, but I find myself working out basic things on a daily basis. For instance, we have a forty gallon holding tank for all the gray water (sink and shower). There's an art to washing all the dishes and taking showers without wasting a lot of water. Gone are the days of letting the faucet run forever.
And it's been a while since I've been without a washing machine and dryer. Dan and I are familiarizing ourselves with laundromats. We've stocked up on quarters (although they do take credit cards now). It reminds me of college days.
Yesterday, I had a wonderful conversation with a prospective client who said he believed we should all routinely step outside our comfort zone. I couldn't agree more. It isn't always easy, but I find that when I reach out, stretching in new directions, it can lead to amazing new discoveries.