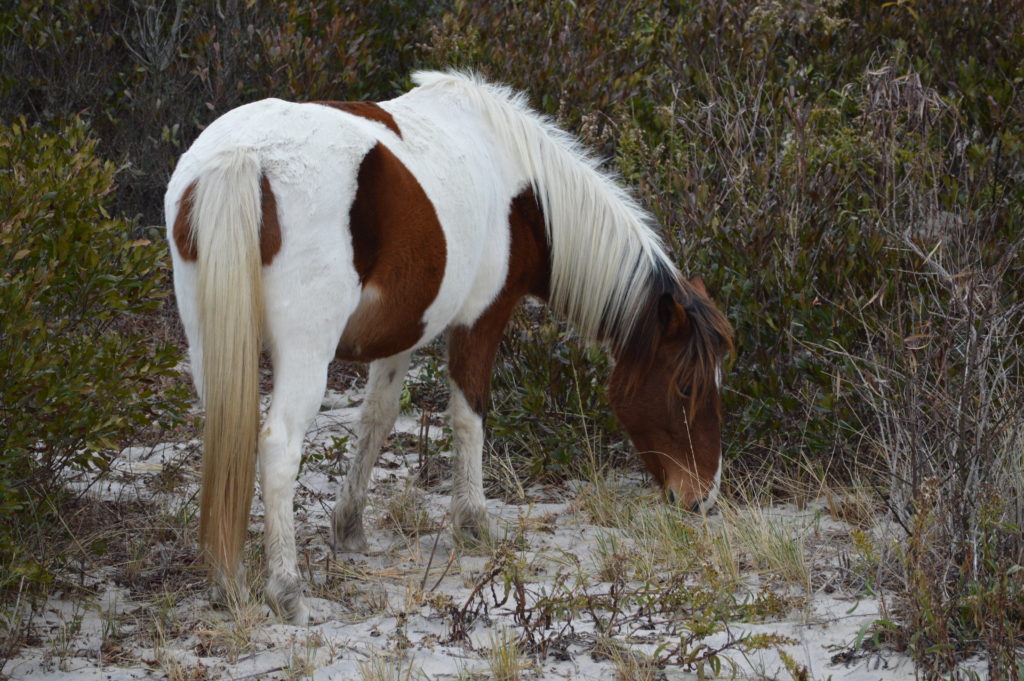 I use a vocabulary workbook called Wordly Wise, which had a story about the Assateague horses who live on an island in Virginia. I read this story with my mom when I was around eight years old. That's before we started traveling in our RV.
My mom was saying how she really wanted to go there sometime to see the horses. Seasons turned to years and now it's been four years, and my sister ran across the same story in her Wordly Wise!
This story finally came to life when we visited Assateague Island, the home of these horses. We started our journey at the visitor center. Serena and I immediately went to the touch tank, where we had a lot of fun. The first thing we did was to organize the sea creatures. (We put all the sea creatures in different places. Like the giant snails in one pile and the clams in another and so on.)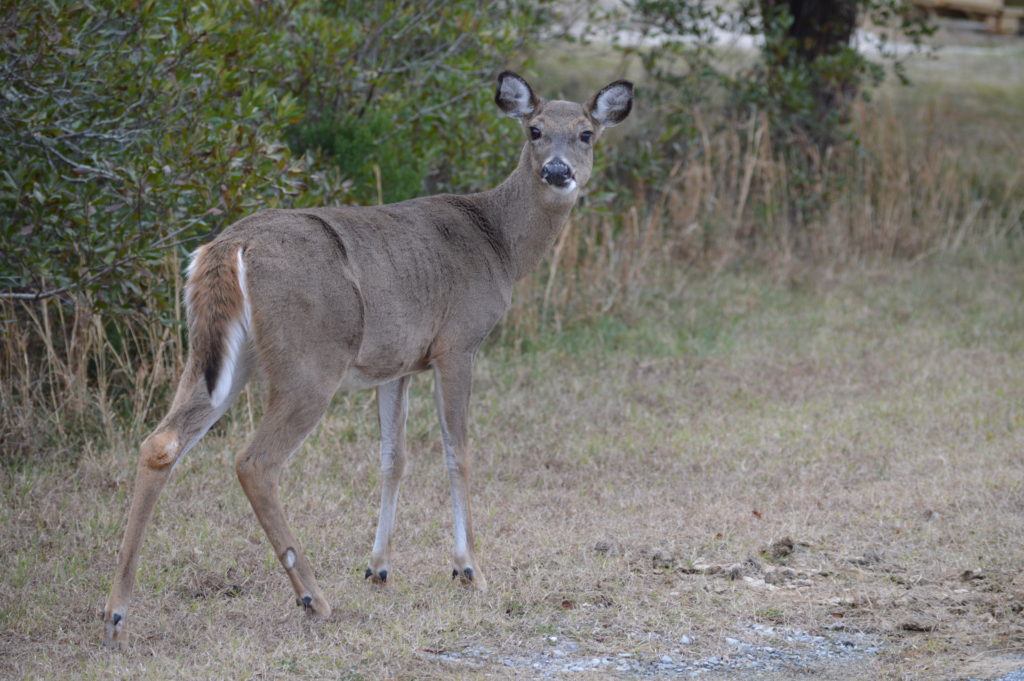 Then we got back into our car and went on the road looking for the horses. Well, there by the side of the road was a deer. We were trying to take pictures when he ran away into the woods. Then another deer appeared and another, long story short we got our pictures.
We really wanted to see wild horses though and were looking all over for them. Then we parked the car and walked a campground on the beach. That's where the horses often hung out.
There on a hill of grass, I saw two beautiful horses. We took a ton of pictures and watched them for a while.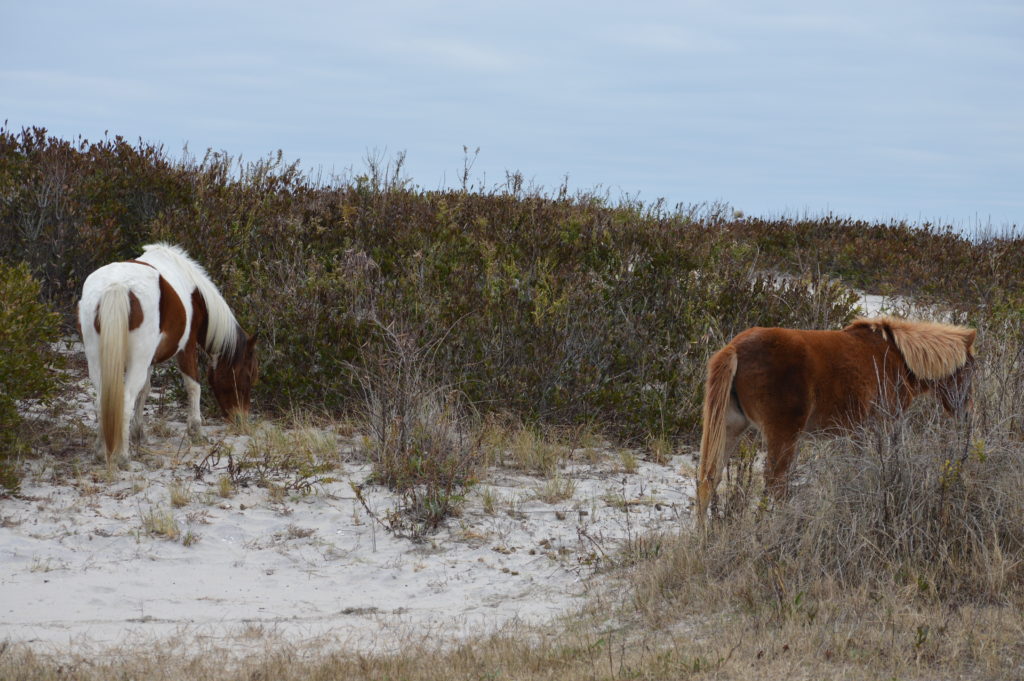 They… were mostly eating. At the visitor center we had also seen an interesting video about the wild ponies. I found out that the horses got there by swimming from Spanish boats, free from the clutches of man. Today we have to make sure not to allow the ponies to overpopulate or they might eat too much of the grass. The grass' roots hold together the dunes and the dunes are what keep the tide from making the island no more.
So to prevent this from happening they made it so that the female horses could only have one baby (or at least they try to). The rangers load a rifle with a small vaccination, which prevents pregnancy. The rangers must mix the solution on the spot and give this shot to them once a year.
The horses recognize the look of the rangers and their uniforms. They seem to know just how much range the rifle has, and do a good job staying just out of reach. It's quite a task for the rangers, so they feel greatly accomplished for two minutes– until they realize that they must go and vaccinate another one.
We also learned that a young male horse separates from his family when he starts showing an interest in mares. When that happens, he goes to a temporary group of single males, called a bachelor group. When he gets lucky enough to find a single female (one who has separated and is on her own), he creates a new group. Or if he is strong enough to fight another stallion for a pack of his own, he can take over an existing group.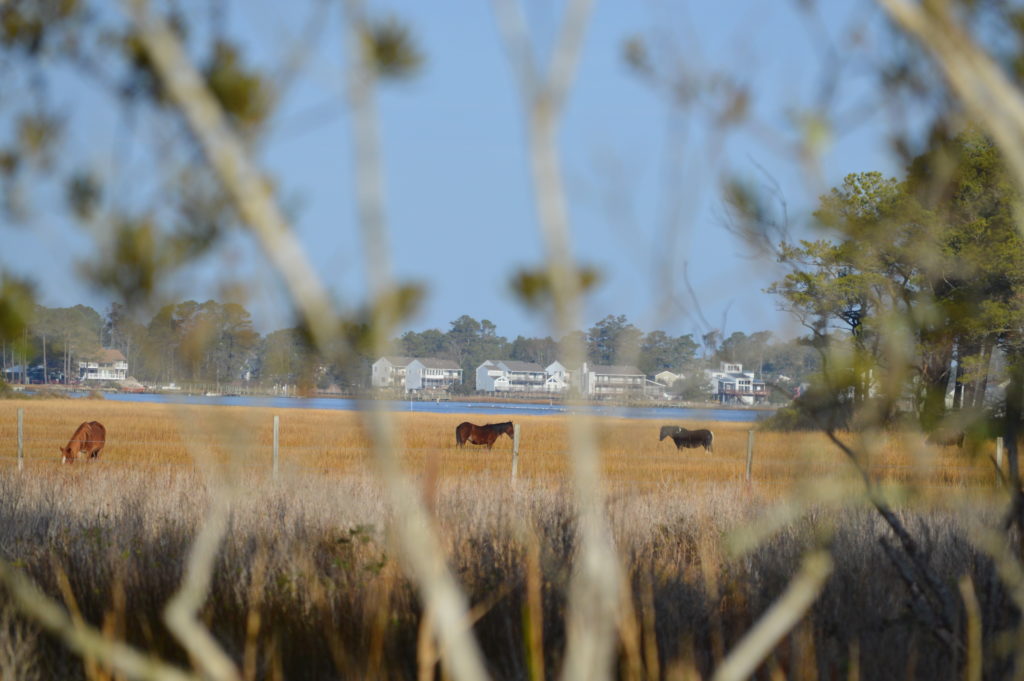 These fights start with each male just confronting each other face to face — whoever backs down loses. If no one does, then they do a show of moves. If neither backs down, then a violent fight breaks out with kicking and biting. As a result, almost every male horse on the island has battle scars.