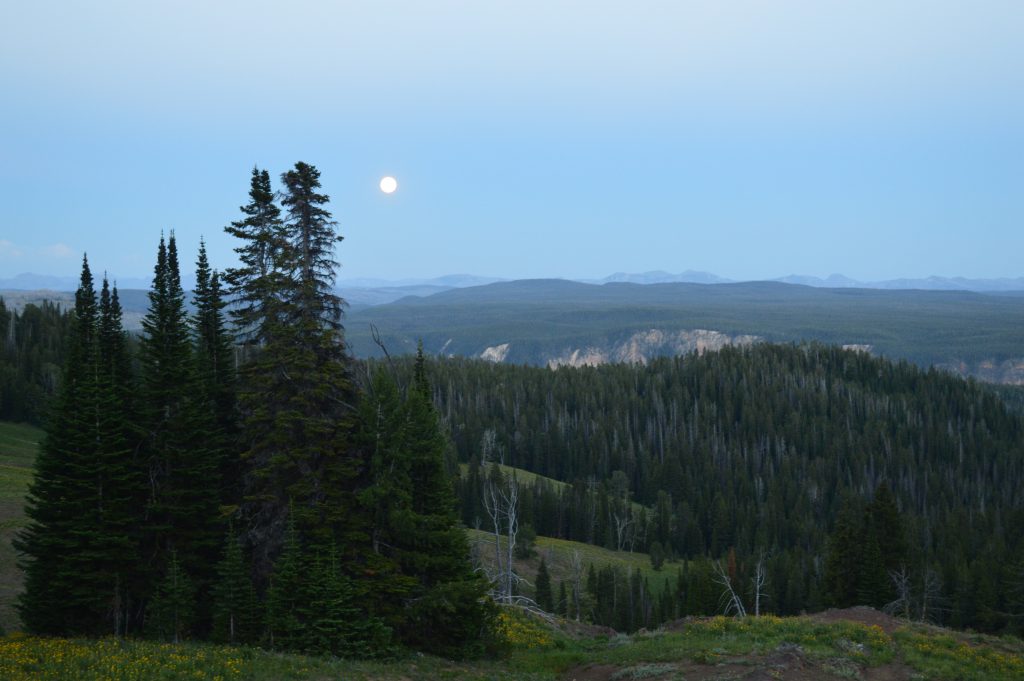 After Yellowstone we turned north and then east, across Montana. We saw a nice mixture of mountains and hilly grasslands dotted with farms. Unlike farther south, the oppressive heat of summer gave way to cooler spells as we finally dipped on I-90 back down into Wyoming. Before leaving the state we spent a couple days beside a big, tumbling stream – was it ever cold!
Aside from Mt. Rushmore and The Badlands, I had no idea what to expect in South Dakota. I had scoped out Harney Peak to climb, at 7,242 ft. not only the highest point in the state but also anywhere east of the Rockies.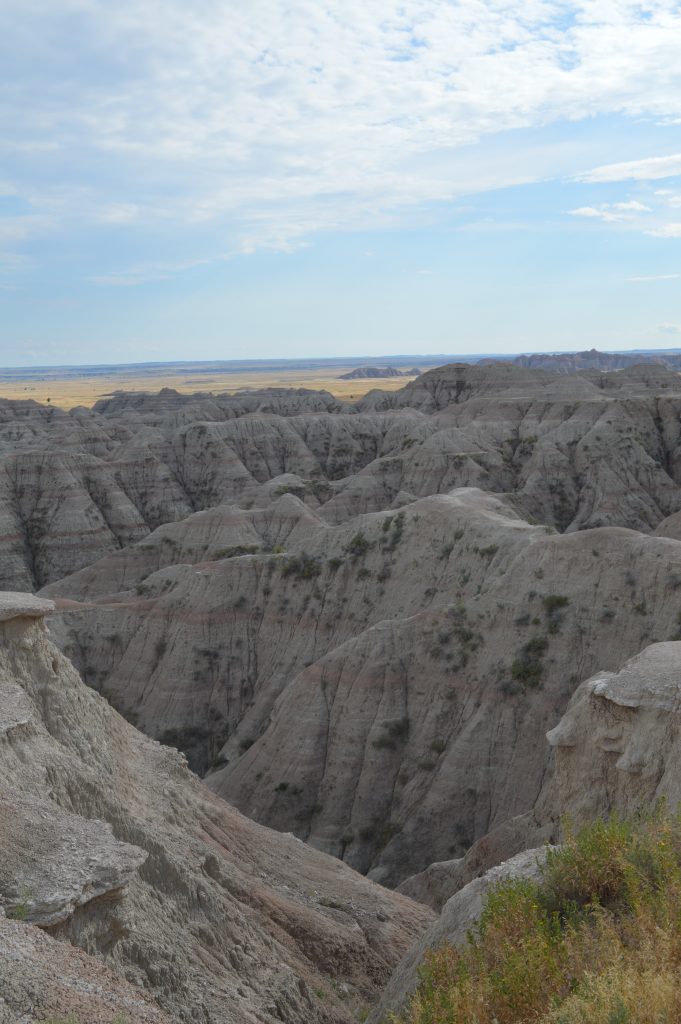 I had high expectations for those first two and they did not disappoint. A series of layers of volcanic ash being washed away at the rate of about an inch a year, The Badlands combines amazing formations and colors. Grassland and even forest is also present in places, supporting abundant wildlife. The park contains the only self-sustaining wild population of black-footed ferrets on Earth.
The whole story of Mt. Rushmore is captured in many exhibits as one approaches the prime viewing areas. We got rained on, but still managed the loop that provides the closest looks at the four figures. Seeing the tops of the huge granite sculptures turn dark and then having the water slowly flow down was actually pretty cool.
My journey to Harney Peak was one pleasant surprise after another. One drives up a narrow highway with all kinds of hairpin turns, through a one-lane tunnel to reach the trailhead at picturesque Sylvan Lake. The climb of about four miles to the peak offers great views of the many ridges of granite spires that earn the area its name, The Needles. I huffed and puffed a little, but the thousand or so feet of elevation gain was much easier than Texas' Guadalupe Peak back in April. But the summit, with its stone observation tower, does have something of an alpine feel reminiscent of the Rockies.
Pressing on, we saw the terrain gradually flatten out into the Northern Plains until we reached Sioux Falls on the borders of Iowa and Minnesota. On to Chicago, the Great Lakes and the Midwest.