As our journey moves into Western Texas and beyond, my family and I get the incredible feeling of wide-open-spaces that I savored when younger. While Texas had plenty of elbow room from the beginning, our drive westward from Austin saw farmland give way more and more to desert, until hills and mountains rose up as far as the eye could see. The desert is in no way empty of life, and my dear family experiences more of its wonders each day.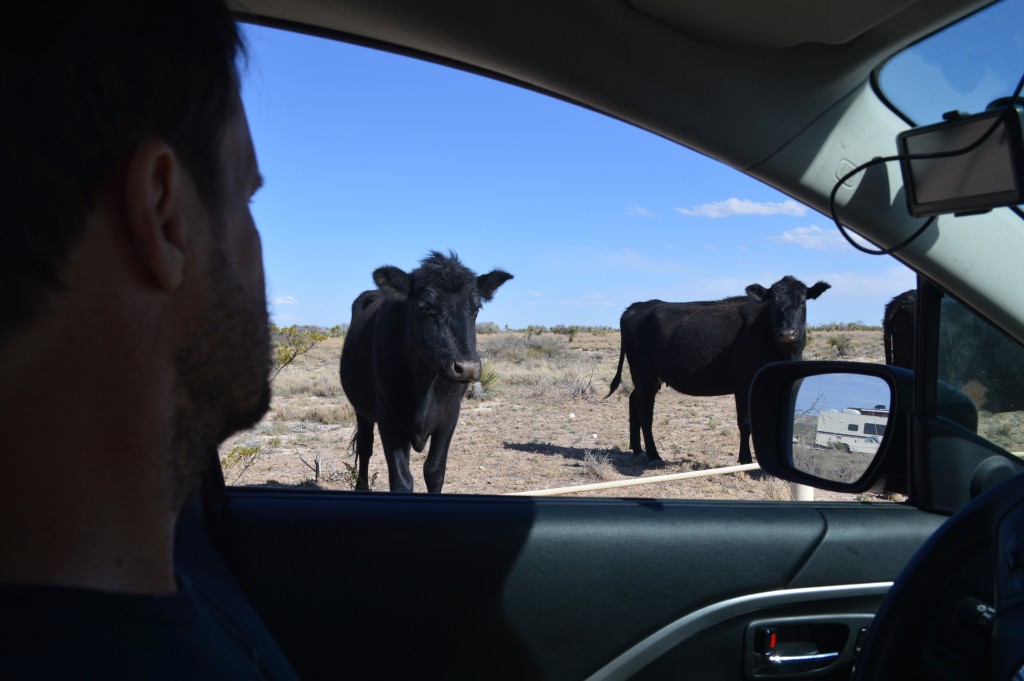 Cows greeted us as the RV bumped along a dirt road to our BLM site. They obviously thought us an oddity, even blocking the road staring at me one day when I returned from town in the car.
The BLM site was just over the border into New Mexico, near the wonders of Carlsbad Caverns. I had some unfinished business in Texas, however. The day after visiting the caverns I drove down to Guadalupe Mountains National Park, looking to climb the park's namesake peak, the highest point in Texas.
Let me tell anyone considering this hike, the trail leaves the parking lot and goes right into steep switchbacks for about the first mile. If you can manage that, rest assured that with determination you can make the summit. Good hiking boots will help, as the trail becomes more and more rock-strewn along the 4 plus miles to the top, steps cut right into the granite in some places. Thank goodness my old sneakers held up!
Although I luckily picked the most ideal April day imaginable (highs in the 50s), I sweated and puffed in the bright sun, not being in shape to say the least. Welcome shade from pine forests provided occasional relief when I made it well up above the surrounding desert. There were even tiny patches of snow near the very top.
Still, my legs threatened to turn to jello, and I wondered as I scrambled up the final switchbacks and rock steps, how I would do going back down. I sat eating my sandwich and trail-mix staring southward down into the empty desert – the Guadalupe Mountains end quite abruptly in spectacular cliffs. The bright sun certainly felt good as the wind on the 8,749 ft. peak whipped around.
I was happy to rediscover (it's been many a year since I've done a hike labeled "strenuous") that one uses a different set of muscles in climbing back down. These muscles too, however, and my knees, were near to shot by the end.
But a very worthwhile hike, one that made me want to explore more of the Guadalupe Wilderness if and when we return to this area. Perhaps I can work myself into better shape by then, climbing the highest point in a few other states – this peak makes two for me, the other being Brasstown Bald in Georgia.