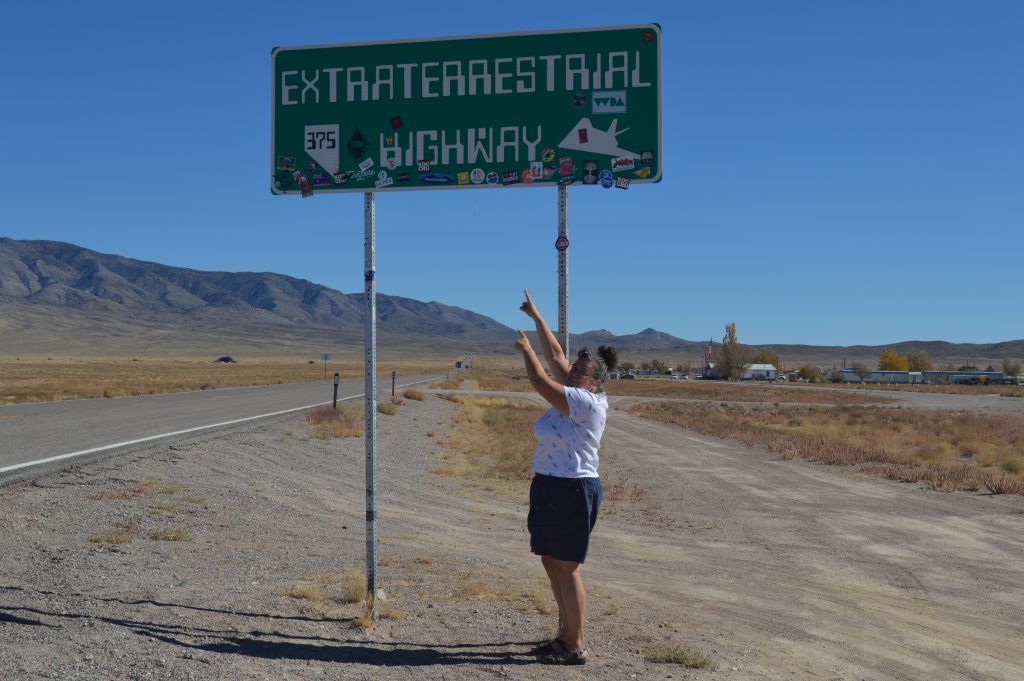 Our family are all pretty big Sci-fi nuts, so of course we had to drive down Extraterrestrial Highway and try to get as close to Area 51 as we could. As it turns out, the area is so secure that all you can really do is go down a dirt road to a gate that warns you not to go further. There is really only one town nearby, Rachel, Nevada. It has one Inn with a restaurant, but no laundromat or gas. I'm not sure what the residents do, as the nearest gas station is 50 miles away! Fortunately, we were aware of this and made sure to have plenty in the tank.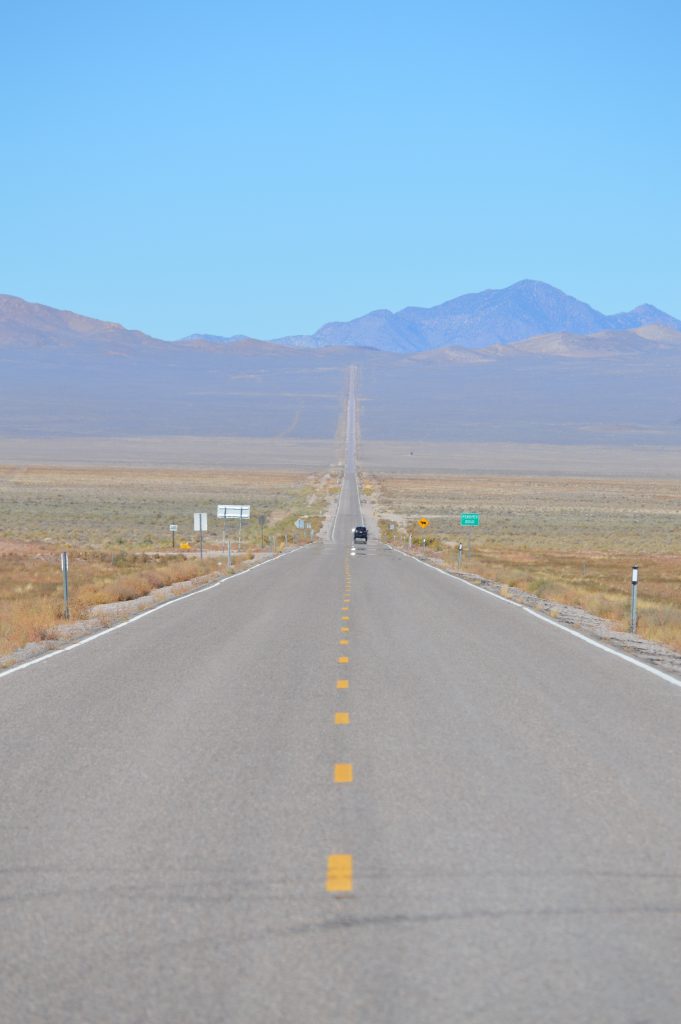 Rachel is all about the Area.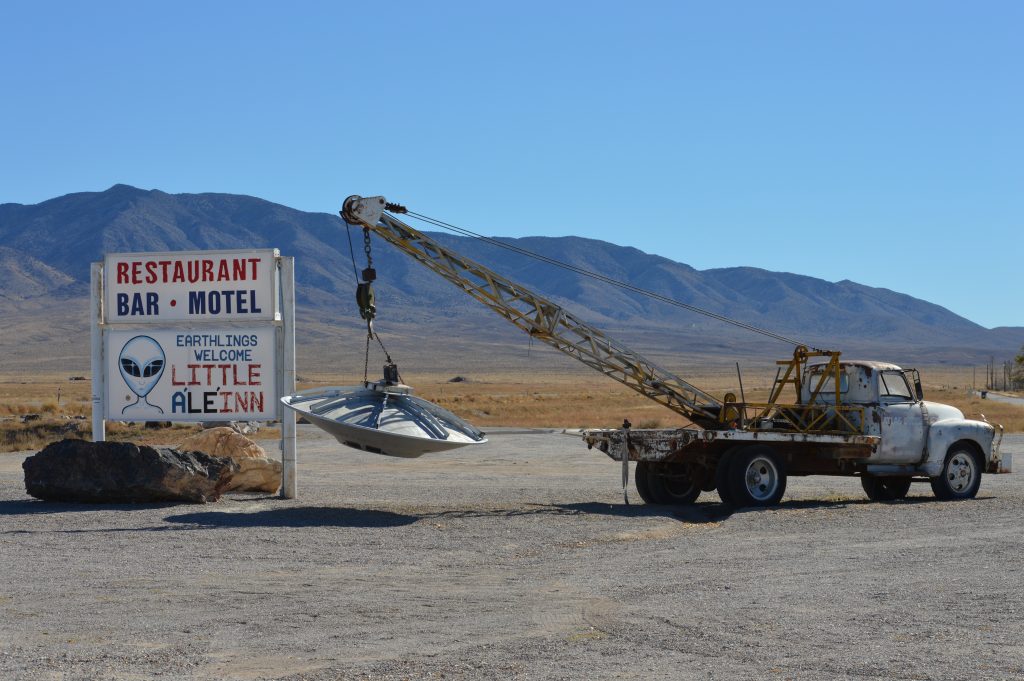 Little A'Le'Inn had a lot of charm and character. The waitress was classically trained from the school of sarcasm. If it weren't for the twinkle in her eye and her twitching lip, I might have fallen for her attitude. We all enjoyed their World Famous Alien Burger from their fun and humorous menu. I mean, what else could we get?
We parked in a dirt lot across the street for two nights and drove around a bit, trying to find the access roads to Area 51. Since it is a super secret facility there aren't any signs pointing the way, but fortunately Google Maps provided directions to the security gate. Good ol' Google Maps! We found an odd shrine to the black mail box mentioned on various sites, a landmark for the dirt road.
By the time we left Rachel, we were quickly running out of time. We had to arrive in New Mexico by Halloween or we'd disappoint numerous children (what's life without a little drama). Fortunately, we could spend a few days in Flagstaff (one of my favorite spots) on our way to Mountainair, NM. We arrived in plenty of time (ie: the day before the big event). Our friends had invited us to take part in a wonderful trick-or-treating hayride! It was a new experience for us, one we will cherish for years to come. It was a magical evening with a large group of kids.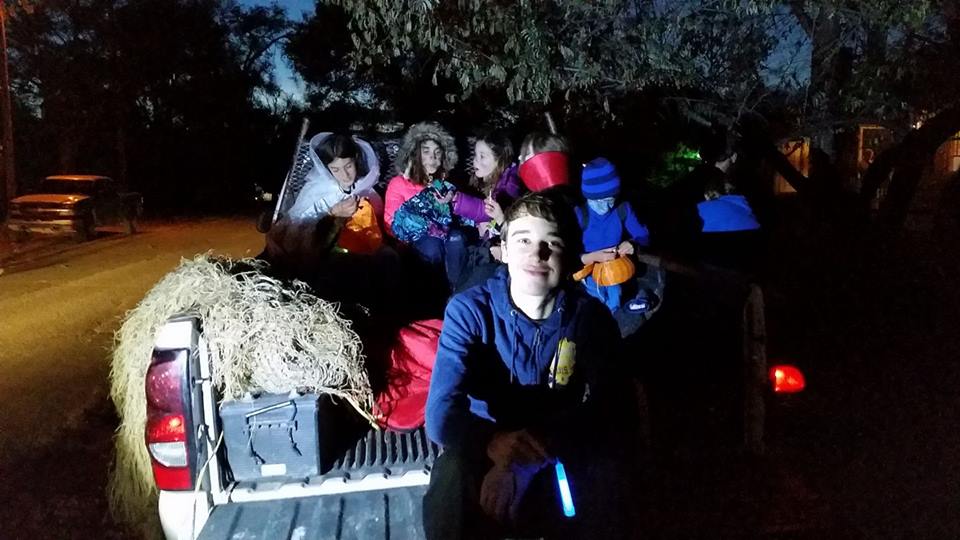 We opted to camp in a cute park in Mountainair, which had hookups at a very reasonable price ($14 per night). Interestingly enough, the campsite was about a mile away from our friend's home, but there were no direct roads to get there. One could theoretically walk, but the rangers warned us that we'd be tresspassing across private property (and that folks in NM tend to shoot first and ask questions later). Our fearless friend Chris opted to try it once and survived, but I didn't want to risk it, not with three kids in tow. So, instead, we took the 16 mile trek in the car, which took a good thirty minutes each way. Fortunately, the landscape was beautiful.
Our friends lived on a magnificent property with all sorts of natural wonders for the kids to explore. They also showed me shards of ancient pottery they'd uncovered nearby. Plus, there were tons of fascinating animal tracks and a wonderful variety of plant life all around. It was incredible. During the day we also enjoyed hiking excursions and explorations of ruins, when we weren't playing board games.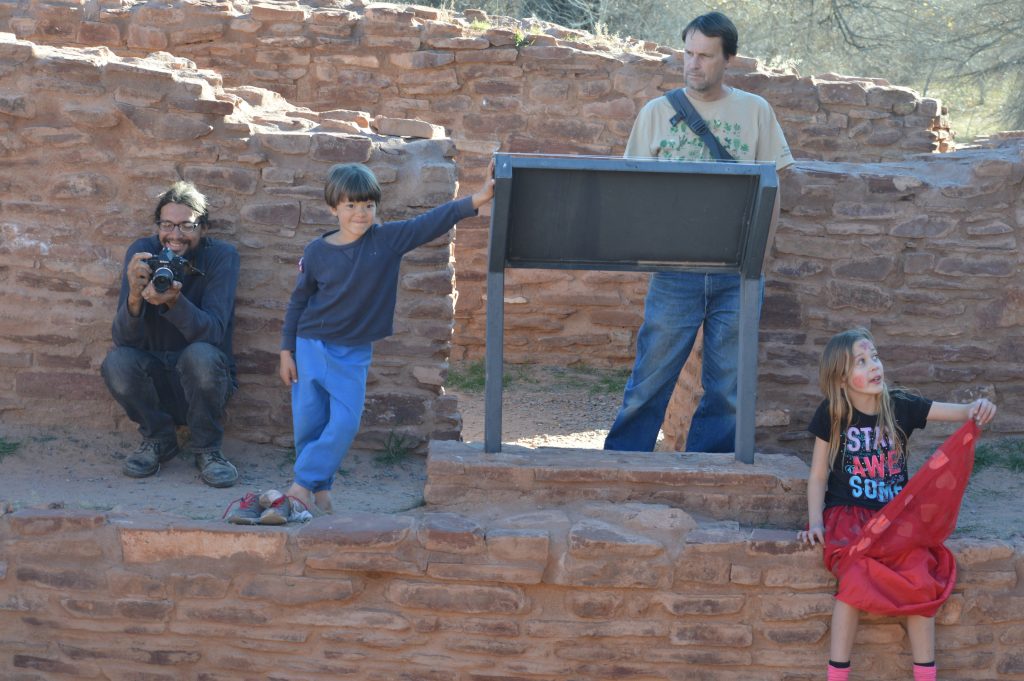 There wasn't a Walmart anywhere around, but we did find ancient cave drawings.
No McDonalds, but the kids created giant leaf piles and played in them for hours.
No one was bored.